VIDEO OTOSCOPY SYSTEM
Software
---
---
SOFTWARE FOR VO APPLICATION:
The clinician has a choice of using software dedicated to VO application in a hearing health practice or using generic programs. At this time, only Starkey and Lori Labs have dedicated VO software packages. The Starkey Pro-HEAR STARVIEW software is a NOAH-compatible platform for integrating Video otoscopy images with patient records including audiometry, tympanometry, hearing aid fitting and patient anecdotal data. Complete patient files may be recalled, displayed, printed and combined into computer-printed text reports to physicians. The Lori Labs program also incorporates audiometric and patient record data.
DEDICATED VO APPLICATIONS SOFTWARE
STARVIEW:
Sample screens listed below provide an awareness of the features in a clinical database software package easily integrating VO data into the patient records.
GENERIC VIDEO CAPTURE / EDITING SOFTWARE
Sample screens below illustrate the use of generic video capture and editing programs for video otoscopy.
For VO-specific applications, video capture boards are typically bundled with image editing software which can be adapted for VO image capture, editing, storage, recall and printing. The figure below shows how editing software can be used to enhance a VO image. An external auditory canal hair is seen (A) highlighted by the fiber-optic light. With image-editing software, the artifact can be removed easily (B). Software is available for cataloging an entire VO image library in convenient "thumbnail" representations.
---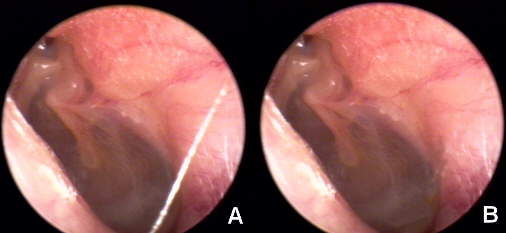 Application of VO image-editing software. (A) EAC hair artifact distorts image; (B) Digitally retouched VO image.
Roy F. Sullivan, Ph.D.
---
USE THE BACK ARROW TO RETURN TO VO SYSTEM IMAGEMAP
---