VIDEO OTOSCOPY SYSTEM
Video Monitor
---
---
VIDEO MONITOR
The video camera, video display monitor and video printer all must conform to the same composite or S-Video signal format. S-Video monitors will typically display both formats. Composite monitors will not. Some VO systems use home video monitors / TV sets, available in both composite and S-Video formats with and without built-in video cassette recorder / players. The clinician should be able to view VO images with ease during the examination which should also be observable to patient and family.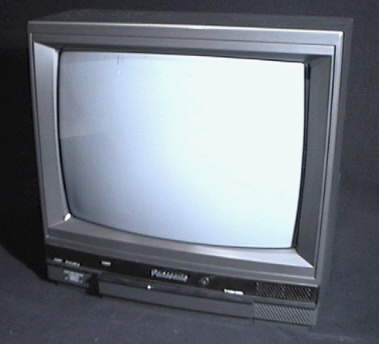 13" S-Video / Composite home video monitor
The additional investment in a professional video monitor is generally warranted by the superior image resolution and color quality obtained in both signal formats as well as RGB-Synch input. For VO in most professional office clinical settings, a 13" diagonal screen provides an adequately sized view for both clinician and patient.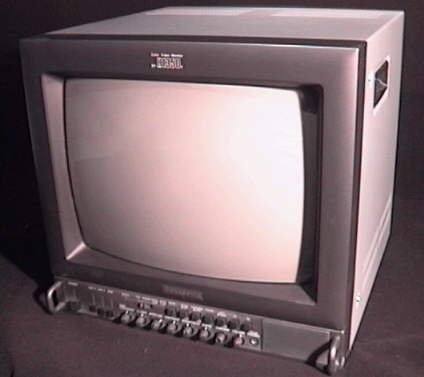 13" Studio quality professional monitor for Composite / S-Video and RGB-Synch inputs
For some offices, it may be convenient to secure a monitor with VCR capability for playing tutorial tapes as well as recording VO data. In an advanced level computer-based system, the VO image may be monitored virtually on-line using the computer monitor. At present, it is more convenient to use separate monitors for on-line VO display and for off-line image capture and processing.
Roy F. Sullivan, Ph.D.
---
USE THE BACK ARROW TO RETURN TO VO SYSTEM IMAGEMAP
---