VIDEO OTOSCOPY SYSTEM
Image Format / Video Printer
---
---
IMAGE FORMAT / VIDEO PRINTER
The image format / video printer greatly enhances the capabilities of the basic VO system.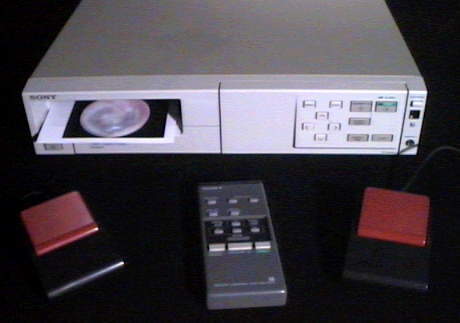 Sony image format / labeling / video printer with two foot pedals and hand-held infra-red remote control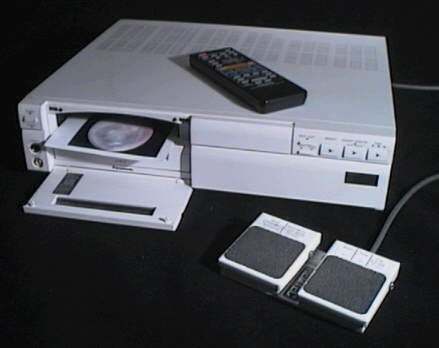 Panasonic image format video printer with dual control foot pedal and hand-held infra-red remote control
A video printer adds the following capabilities to the basic VO system:
1. Freeze frame

A. Patient presentation and discussion
B. Image selection for computerized capture and storage

2. Frame formatting into 1, 2, 4, 9 or 25 individual images per screen
3. Strobe (automatic time sequence) recording of 2 through 25 images per screen
4. Remote control of the image format, freeze, video print functions

A. Hand-held infra-red remote
B. Hands-free wired or infra-red foot pedal control (a practical option)

5. Independent adjustment of VO image hue, saturation, brightness and contrast
6. Polaroid process printing of the video screen VO image in less than 60 seconds
7. Automatic selection of multiple print copies
8. VO photos may be included in the physician report
9. Print titles / time/date information
Polaroid prints average about $0.75 per print which may contain 1, 2 or 4 clinically useable images.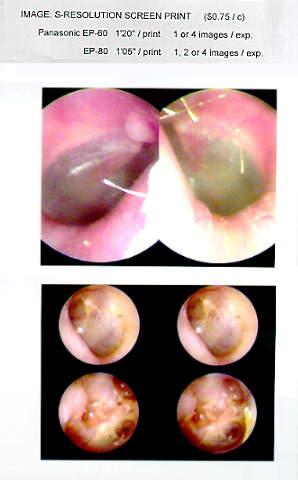 Images may be capture one / photo or may be formatted and cut into two or four images.
The figure below shows a Polaroid VO photograph which has been formatted to display two images each of the right and left tympanic membranes in a single exposure. The author has created a print-sized 4" by 5.75" computer-generated cover label containing information about the image (Fig. A), which is stapled over the face of the photoprint for transmission to the primary care and/or ENT physician.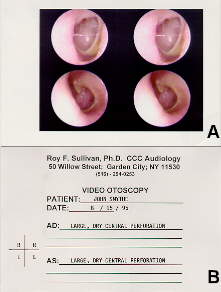 (A) Polaroid process VO photoprint showing four image print format; bilateral large, dry central perforations; upper images / right ear; lower images / left ear. (B) Photo-size transmittal form containing information about the image(s) for the physician.
Roy F. Sullivan, Ph.D.
Generally, video printers only accept input from analog video sources. A special video (capture) card with analog output is required to use a video printer for reproducing computer-stored images.
---
USE THE BACK ARROW TO RETURN TO VO SYSTEM IMAGEMAP
---