VIDEO OTOSCOPY SYSTEM
Digital Components
---
---
VO SYSTEM: DIGITAL COMPONENTS
In order to store, edit, recall, compare and print VO images as patient records, it is necessary to provide an interface from the VO analog system to a computer which has been adapted for this purpose.The author's office VO system, containing a full range of analog and digital features, is shown below. Because of the author's clinical text and hypertext publishing requirements, this system transcends the requirements for routine application in a hearing health practice. The digital extension of a VO system is invaluable in a practice where VO is used routinely in patient hearing aid and hearing health follow-up. To date, two companies, Starkey and Lori Labs, provide integrated hardware, software and technical support for computer-based Video Otoscopy in a hearing health practice. Other manufacturers can be expected to offer computer support for VO systems.
The author's analog / digital research-level VO system.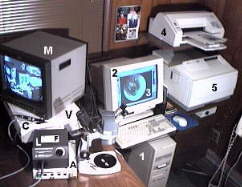 LEGEND:(C) VOE head with S-video camera; (not shown) dedicated VOM camera; (A) VOE camera amplifier / power supply; (M) professional 13" video monitor; (V) image format / professional level video polaroid printer; (L) 150 watt halogen light source; (F) focus / orientation card w/ 1mm vertical rulings; (1) Pentium 90 CPU with 16 mbytes RAM, 2 X 1.25 gByte hard disk drives; qic-80 hard-disk-backup drive; 600 - 900 mB CD-ROM recorder/reader, 28.8k baud FAX / modem; (2) 17" high bandwidth SVGA monitor; (3) image processing and cataloging software; (4) 720 X 720 dpi color inkjet printer; (5) 600 X 600 dpi, 16 ppm black and white laser printer.
Roy F. Sullivan, Ph.D.
---
USE THE BACK ARROW TO RETURN TO VO SYSTEM IMAGEMAP
---