VIDEO OTOSCOPY SYSTEM
Introduction
---
---
A thorough otoscopic examination has always been an essential first step in prevalidating the audiometric assessment of hearing and the selection and fitting of custom hearing instruments. A learned clinical skill, otoscopy requires adequate visual acuity, perceptual learning, technical aptitude, an awareness of the range of normal anatomical variations and a familiarity with those conditions of the pinna, concha, external auditory (EAC) canal and middle ear,- as viewed at the tympanic membrane (TM) - which may require medical referral, special consideration in hearing instrument fitting or both.
Video Otoscopy (VO) provides an opto-electronically enhanced field of view of the ear which can be shared with the patient. VO images can be enlarged and focussed in a way not possible with standard otoscopy. They may be stored on disk or tape, recalled and reproduced via Polaroid photoprint or computer ink-jet printer and transmitted by modem.
In the five years since its introduction to hearing health professionals , Video Otoscopy has become an invaluable clinical tool with more than one thousand systems used in hearing health practices.Today,VO instrumentation is available in both clinical and portable models from a number of manufacturers including Grason-Stadler (Welch-Allyn); MedRx, Siemens and Starkey (JedMed). Siemens also distributes VO equipment through Rexton. MedRx supplies VO units for Argosy, Beltone, Electone, Finetone, Hal-Hen, HSI, Lori Labs, Magnatone, Maico, Miracle Ear, Micro-Tech and Qualitone. Other VO suppliers include Adroit Systems,, EarCrafters, Interpersonal Communications and MedOptics.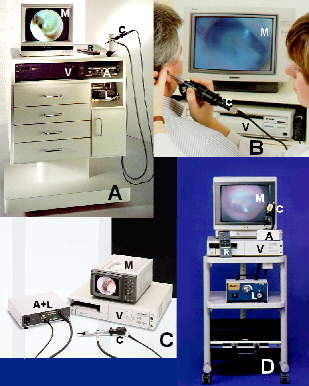 Major manufacturers of VO systems in the U.S.A.: (UL) Starkey; (UR) Siemens; (LL) GSI; (LR) MedRx
VIDEO OTOSCOPY SYSTEM
The Video Otoscopy System Client Side Image Map presents the components of a Video Otoscopy (VO) system in block diagram format. For discussion purposes, these components may be divided into Analog or video-based (pink/blue) and Digital or computer-based (green) categories. Given the rapid advance of video and computer technology, the analog/digital dichotomy can be anticipated to merge into a single (digital) category. Yellow blocks represent optional features. Dashed lines represent optional / alternative component inter-connections.
For audiological applications, video otoscopy may be divided into two categories: Video Oto-Endoscopy (VOE) and Video Oto-Macroscopy (VOM). In VOE, an endo[scopic]-otoscope or rod otoscope with a concentric fiber optical light source is used to examine the external auditory canal and the tympanic membrane. In VOM, a macro- or close-up (CU) lens is used in place of the rod otoscope to facilitate videography of a hearing aid in situ, the concha, pinna and peri-auricular areas.
Roy F. Sullivan, Ph.D.
---
USE THE BACK ARROW TO RETURN TO VO SYSTEM IMAGEMAP
---